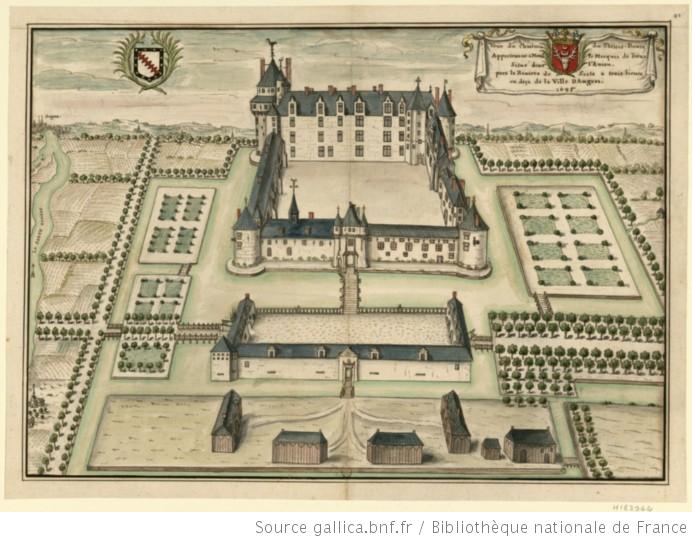 Formerly, the estate was called the Windy Plessis. It was bought by Jean Bourré, the Finance Minister of Louis XI, who was also the main confident of the king, and his most faithful servant, and who built the present château in less than 5 years from 1468 till 1473. To a detail, it is today as it was at its construction.
The Plessis-Bourré is the perfect example of transition style. Indeed, its important defense system, the impressive double drawbridges, the large moats, the parapet walk and the dungeon, rank it among the fortresses of the late middle Ages.
However, its elegance, the stately courtyard, the arcaded gallery, the large rooms lit by high mullioned windows, its rich decorations and the comfort of the interiors appreciated by different kings of France introduce the Renaissance. Highly interested in Alchemy, Jean Bourré, left us important and mysterious decorations, probably some of the most beautiful in France, filled of esoteric symbolism giving a striking feeling of the site's bewitchment.
Throughout the centuries, the existence of the castle was repeatedly threatened. After different successive owners, it was bought by Mister Vaïsse, the great-uncle of the present owner, in 1911. A great art lover, he contributed to the restoration and enrichment of the castle.  In 1931, the castle of Plessis-Bourré was listed as a historical monument.  After the death of Mister Vaïsse, his successor and nephew, the duke of Dalmatia, opened the castle to the public in 1955. Today, his descendents take care of the preservation of its authentic and family character.