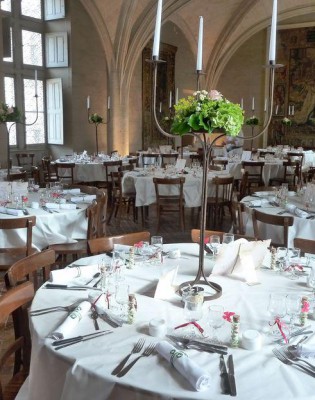 Receive at Plessis-Bourré
This exceptional place is perfect to hold receptions (weddings, birthday party, ceremony, family meetings…) and also business seminars.

The Plessis-Bourré Castle was built in only 5 years from 1468 to 1473 by Jean Bourré, Grand Treasurer of King Louis XI.
With the same loyalty, Jean Bourré become the Grand Treasurer of Charles VIII, and then that of Louis XII. Aged of 83 years old, he dies in the last of the five castles that he built. The Plessis-Bourré Castle is the only one that has intact. It is also the most innovative.
Construct on a platform surrounded by water moats, it is defended by three drawbridges, a fortified gate and a keep. Comfortable, bright and airy, the dwelling has remarkable decorations that herald the First Renaissance (including paintings on the ceiling with esoteric symbolism.
Restored after 1850, the Castle is embellished by decors and collection of Henry Vaïsse.
Descendants of three marshals, his heirs enriched the Castle with memories of the imperial era. On a preserved natural site of 400 hectares, the visit of this private historical monument, furnished and inhabited allows you to discover a fortress and a pleasure residence in the same castle.
Almost all year, discover our numerous events about the biggest hours of French history.
› Read more